We live in a digitized world where everything is just a fingertip away. Similarly, cars' concept first changed from manual to automatic, and now electric cars are leading the markets worldwide. These cars are portable and eco-friendly as they do not consume fuel or gas but run on the energies provided directly by the rechargeable batteries. Since these cars depend on stored energy, they do not produce noise or have no or less emissions overall. 
The best part is that these cars are somehow pocket-friendly since you don't have to spend extra money on fuel or gas consumption. Instead, you can charge these cars at various charging stations, or you can also set up a charging station at your home. In comparison, these cars are more comfortable and faster than the rest of the fuel accelerated cars and give the driver a lighter effect while driving. 
So far, we have three best yet cheapest electric cars. Follow the article to know more about them.
1.) Wuling Hongguang Mini EV – $4,000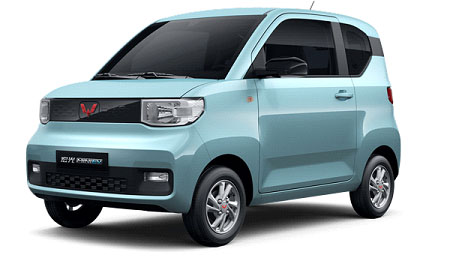 Wuling Hongguang Mini EV is a mini electric car with a capacity of 4 people and available in 4 different colors. The company offers two types of batteries: The 9.2 kWh battery can cover a range of 120 km, or the 13.8 kWh battery can cover a range of 170 km. The top speed of this car is 100 km, with an average range of 106 miles. 
Other features include:
Monitoring sensors for tire pressure and rear parking.
12 storage compartments that increase up to 741 liters of additional space when the rear seats are folded.
This is one of the cheapest electric cars in China, and it will cost you only $4000.
2.) Citroen Ami One – $6,592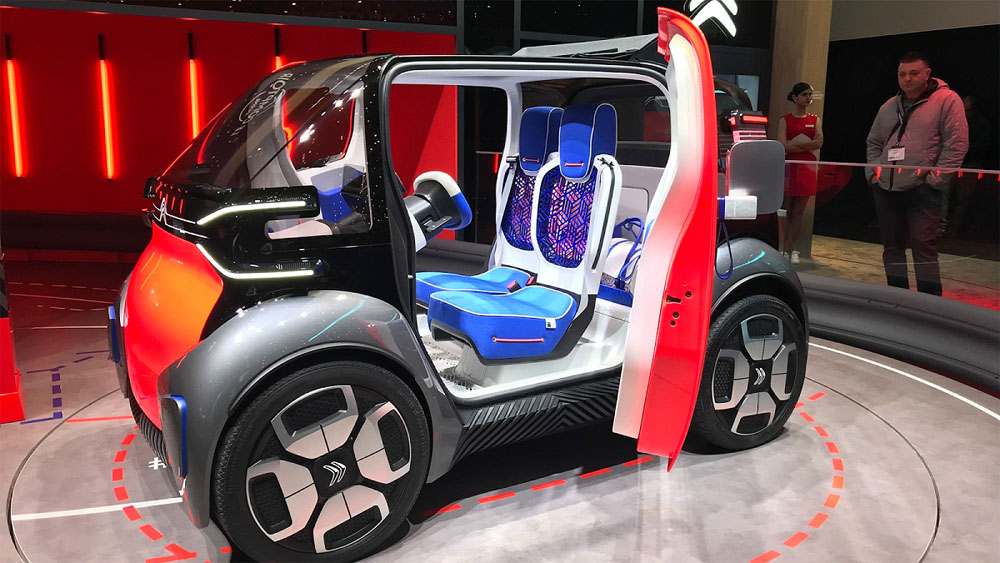 Citroen Ami One is a two passenger seat car and available in three sexy colours. The car has light motors quadricycles and a lithium-ion battery of 5.5 kWh and gives a mileage of 70 km approx. The car is light weighted and comprises a total weight of 485 kgs together with battery. 
Other features include:
The car offers the same symmetry from all the sides makes it antagonistic for the driver and the passenger as well.
Small and portable.
Cuboid body with compact dimensions.
Besides, being a small and simple car it will cost you only $6,592 because its speed is not comparable to any other electric cars.
3.) Kandi K27 and K23 – $12,000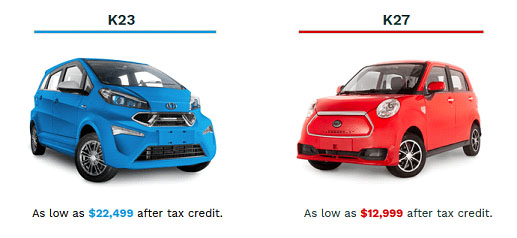 These two Kandi models have an amazing design, and a little bit they differ in their features; let's see how.
Model K27
It is a smaller car, and the propulsion system consists of a 17.69 kWh battery, which allows the highest mileage of 160 km/charge.
The car's design and interior allow the driver to drive comfortably with a seating capacity of 4 passengers.
17.69 kWh lithium battery, and the charging time is up to 7 hours.
The car is super fast and available in 5 different colors.
Model K23
Like the K27, this is also a smaller car, and the feature that makes it different from the K27 is its propulsion system, which consists of a 41.4 kWh battery and allows a maximum mileage of 280 km/charge.
A safety bag is available for both the driver and passenger seats.
Rearview camera
Battery protection.
The thing that makes this model a hot topic in the city is the speed-sensitive door locking system.